The US websites for PokerStars, Stars Casino, and FOX Bet went down for about four days due to an unspecified server issue, according to parent company Flutter Entertainment.
The outage started on Friday, February 4, 2022, according to player complaints that started popping up on the company's social media feeds at the time. Players also started reporting problems to the website Downdetector.com, a platform dedicated to tracking the operational state of various websites worldwide.
PokerStars and Stars Casino sites in Michigan, New Jersey, and Pennsylvania were affected by the outage. So, too, were FOX Bet sites in those three states and Colorado. Other Flutter brands — including FanDuel, TVG, and Betfair US — were not affected by the outage.
Flutter did not initially offer much of an explanation for the outage. FOX Bet posted an apologetic tweet on the evening of February 4:
PokerStars USA tweeted a similar response late Friday afternoon, apologizing for the inconvenience to its players and saying all MTTs were canceled until 10 am Monday when they expected service to resume.
Two days later, FOX Bet tweeted that its operations were down due to an "unscheduled maintenance issue," adding that technicians were working to restore service as soon as possible.
$25
no deposit credits +
$600
match bonus

$25 Free Cash
no deposit required
Welcome bonus
Decent cash traffic
Reliable software
"Customers across all verticals — FOX Bet Sportsbook, PokerStars, and Stars Casino — can still manage their accounts," FOX Bet said. "We do not anticipate any impacts to customer account balances — this is not a data breach. We thank customers for their patience and apologize for this inconvenience."
On Wednesday, the company issued a statement indicating that most of its operations were restored.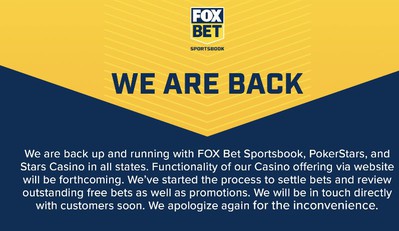 "We are back up and running with FOX Bet Sportsbook, PokerStars, and Stars Casino in all states. Functionality of our casino offering via website will be forthcoming. We've started the process to settle bets and review outstanding free bets as well as promotions. We will be in touch directly with customers soon. We apologize again for the inconvenience."
A Mea Culpa, But Also Bad Memories
While the company hasn't provided extensive details into what happened, it was eager to make amends. On Wednesday, it announced two separate promotions: A Daily Appreciation Freeroll and a Power Hour Special, both running from February 9 through 12.
The sudden and inexplicable blackout scared a fair number of players, especially as some of them started reporting weird bugs they experienced in the hours leading up to the event.
For some, these events evoked memories of Black Friday, which is still quite vivid for many US poker players. On that day, the DOJ unsealed indictments against three major poker rooms operating in the states, shutting down their websites and cutting players completely off from their money. What followed was a long and grueling process that cost quite a few players a fair bit of money they had on the sites.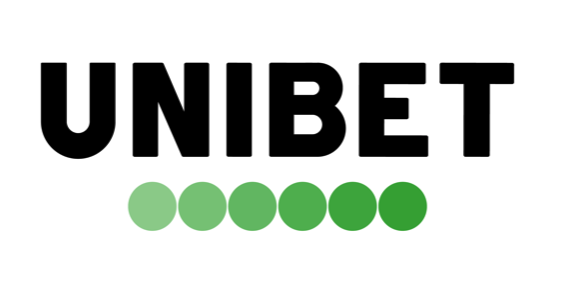 $500 Risk-free
for your first sports bet
Top mobile app
Rewarding promotions
Variety of betting markets
While the Black Friday scenario is very unlikely in today's climate — where PokerStars, Stars Casino, and FOX Bet operate only in jurisdictions where they are fully licensed — the reaction from the player base was hardly unexpected, given the company's reluctance to explain what caused the outage.
The fact that all of this is happening just days before the Super Bowl, the biggest sports betting event in the US, does not bode well for the operator, either.