With Super Bowl LVI coming up on February 13, 2022, football fans from coast to coast are gearing up for the biggest game of the year. Next to the on-field action, betting on various aspects of the game is a massive part of the whole Super Bowl Sunday experience for many fans. Historically, Super Bowl Sunday is the biggest day of the year for prop bets — more than half of Super Bowl bets are usually prop bets, as fans wager on everything from which team will score first to what color of Gatorade will be dumped on the winning coach's head.
Despite the industry and fans both feeling the effects of the pandemic, an estimated 23 million Americans legally bet on last year's game, comprising a total of nearly $137 million in wagers placed on Super Bowl XV. This year's big game is already looking to be even bigger. With the rapid expansion of the US regulated sports betting industry over the last 12 months, sports fans today have access to more online sports betting options to choose from than they ever have before.
$1000
Risk-free bet for
new bettors

$1000 Risk-free
on first real money wager*
*except PA & NY
Big risk-free welcome offer
Some of the best promos
Variety of betting markets
Please play responsibly. If you or someone you know has a gambling problem and wants help, call 1-800
GAMBLER
.
There are 11 new states that have brought regulated sports betting onto the market since the start of 2021, with most of those coming online in the months following Super Bowl LV. Since this time last year, more than 61 million people have gained access to legal sports betting and can bet on the Super Bowl in their home state for the first time this year.
In total, 30 states plus the District of Columbia now have live and legal sports betting operations as of January 25, 2022, according to the American Gaming Association. "Live and legal" is defined by the AGA as "states where single-game sports betting is legally offered to consumers through retail and/or online sportsbooks."
Of those 30 states, more than a third of them have come online since the start of 2021, and nine states will have live and legal betting on this year's Super Bowl for the first time. Michigan and Virginia came online in early 2021, just barely in time for Super Bowl LV.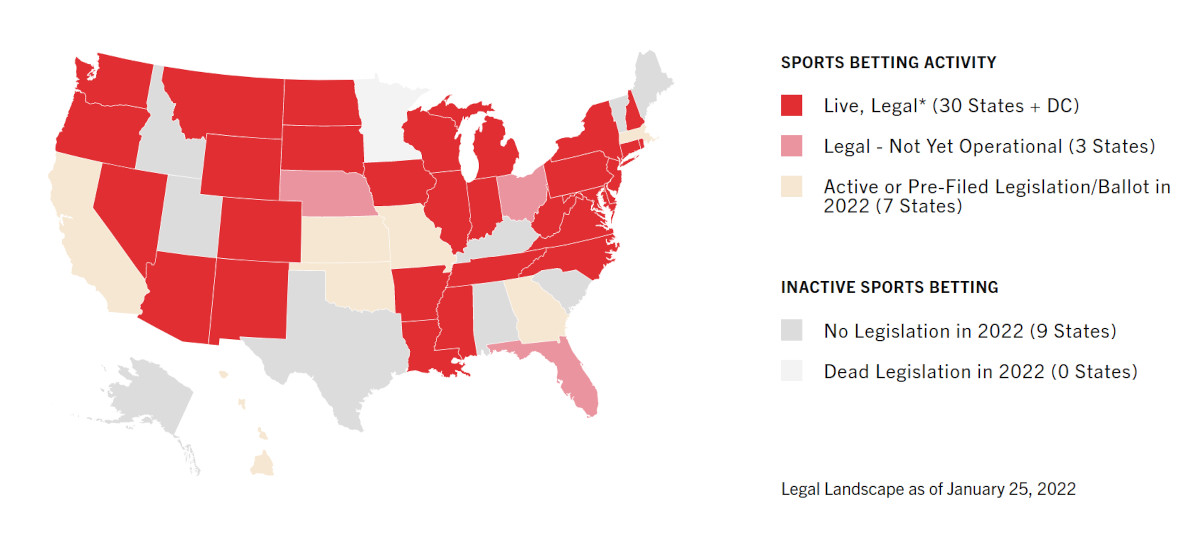 Nine New States Betting on Super Bowl
LVI
11 states legalized sports betting in some form since the start of 2021 — AZ, CT, LA, MD, MI, NC, NY, SD, VA, WA, and WY. MI and VA came online mere weeks or days before last year's big game, so residents of those states are technically betting on their second Super Bowl this year, but the nine other states listed all legalized sports betting after Super Bowl LV and will be getting their very first chance to bet legally on the biggest NFL game of the year.
In four of the newest states, residents can only bet on the game at retail outlets. Maryland, North Carolina, South Dakota, and Wyoming have all launched retail sports betting, but have not yet added an online component to go along with it. On the other side, Virginia and Wyoming went live with only digital sportsbook options and no retail betting.
$1000
Risk-free on your
first bet

$1000 Risk-Free
applied to your first bet
Massive risk-free bet
Quality promotions
Good in-play options
Please play responsibly. If you or someone you know has a gambling problem and wants help, call 1-800
GAMBLER
.
New York is the newest addition to the online bunch, coming online just a couple of weeks ago. NY had retail sports betting available since 2019 but had no online component until last month. Considering the first two days of NY's legal mobile sports betting market was an unheard-of success — pulling in over $17 million in under 48 hours — we are eager to see what the Empire State's numbers for Super Bowl weekend will be.
Louisiana is the other fresh face on the online sports betting scene for 2022. The Bayou State launched for online operations in late January — less than 3 weeks before the Big Game — and just in time for bettors to get their wagers in at one of the six sportsbooks currently operating in LA.
The nine states that joined the sports betting market since the last Super Bowl, boast a combined population of 61.4 million people that can legally bet on the Super Bowl for the first time this year. That represents a staggering 18.3% of the US population — nearly one-fifth of the entire country.
It seems like the biggest game day of the year just got a whole lot bigger.