Run It Once Poker, the brainchild of accomplished American professional poker player Phil Galfond, is now eyeing the regulated US online poker market.
After previously operating in the international market, Run It Once Poker has returned with renewed focus on providing an exceptional online poker experience for players in the United States.
To help facilitate its entry into the US market, Rush Street Interactive (RSI), a leading igaming operator, acquired the upstart for $5.8 million and announced that it would integrate the poker platform into its existing online gambling portfolio.
BetRivers is the flagship online gaming brand of RSI in the US. With a massive customer base and strong brand recognition, Galfond's brainchild product will largely benefit through new player acquisition and cross-sell opportunities from BetRivers online casino and sports betting verticals.
With its entry into the US market, Run It Once Poker US will become the fourth major operator, joining the ranks of well-established competitors such as PokerStars US, WSOP US, and BetMGM Poker US. This move will mark a significant moment for US online poker, as the market has not seen a new brand in nearly a decade.
Although specific details remain limited, it is understood that the new owner intends to introduce the RIO US network in the near future, possibly in early 2024.
As RSI has a strong presence in most US states where igaming is available — including states where online poker is legal — RIO US is expected to go live in at least New Jersey and Michigan, where it could launch a shared liquidity network right from the go.
It could also launch in Nevada, Pennsylvania, West Virginia and even Ontario, Canada down the line.
In preparation for Run It Once Poker's entry into the US market, we have compiled a comprehensive guide that provides an in-depth exploration of the platform's unique online poker product and the distinguishing features that set it apart from its competitors.
Additionally, we will examine its parent company, Rush Street Interactive (RSI), and explore how this acquisition has positioned RIO as the fourth online poker provider in the US.
$250
match bonus with
1x wagering

$250 Bonus Match
on your first deposit
Last verified: September 2023
Best wagering req's
Live dealer games
Rewarding promotions
Please play responsibly. If you or someone you know has a gambling problem and wants help, call 1-800
GAMBLER
.
RIO's History
Run It Once Poker was founded by Phil Galfond, a highly respected figure in the poker community. In response to the concerning state of online poker in 2016, Galfond made an announcement outlining his plans to launch his own online poker room with a vision of offering a player-centric and transparent online poker platform.
After three years of meticulous planning and development, Run It Once Poker was officially launched in 2019. The room created a media buzz for introducing some of the most innovative features in the online poker industry such as the revolutionary Splash the Pot, Dynamic Avatars, and built-in HUD, to name a few.
Despite its potential, the room faced challenges in gaining traction. Operating with a limited marketing budget and initially offering primarily cash games with no mobile app, the platform struggled to create a significant player base and ultimately the room was shut down in January 2022.
In a blog post, Galfond announced the closure of RIO dot-com operations, while also revealing the company's intention to introduce its top-quality software to the newly rejuvenated US online poker market.
Run It Once Poker x Rush Street Interactive
Just two months following the closure of Run It Once, its plans to enter the regulated US regulated was unveiled. In March 2022, Rush Street Interactive (RSI), a prominent igaming operator in the US, announced its acquisition of Run It Once Poker for $5.8 million.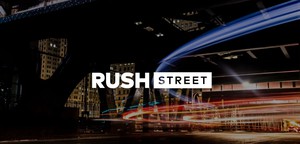 This acquisition allowed RSI to bring on board the talented and experienced development team responsible for creating and maintaining the RIO platform. With a proven track record of success, Rush Street Interactive brings a wealth of expertise and resources to support the growth and success of Run It Once Poker in the US market.
For the next few months, no further details emerged and the company remained tight-lipped on its strategy for RIO's launch in the US.
In August 2022, RSI put an end to months of speculation after it confirmed that it will "eventually" add online poker to its gaming platform. Concurrently, the company also revealed the completion of its acquisition of Poker Night in America, a widely popular series known for showcasing cash games and Sit & Go action. The acquisition was accomplished through a cash-and-stock transaction valued at $4.9 million.
In May 2023, Poker Night in America aired a new show called Studio 52, which was hailed as the first-ever "poker residency" of its kind. This unique concept featured a studio set up inside the residence of Todd Anderson, the founder of Poker Night.
Run It Once Poker to Have Casino & Sports Integrated
Since Run It Once Poker is acquired by Rush Street Interactive, the room will operate under the BetRivers branding. BetRivers, an established presence in multiple US states, offers top-notch online casino and sports betting platforms. As Run It Once Poker prepares to relaunch in the US, the platform's offerings won't be limited to poker alone. Players will have the added benefit of accessing a diverse array of casino games through the integration with BetRivers' online casino products.
This strategic merger unlocks a significant cross-selling opportunity by leveraging BetRivers' existing player base to attract and engage poker enthusiasts in the online poker vertical. Players can now seamlessly enjoy both online poker and a wide selection of casino games, all while exploring sports betting options within the unified platform of the revamped Run It Once Poker.
The Innovative Software
Run It Once Poker boasted a high-quality software platform that set it apart from the competition. With its modern design coupled with innovative features, the end result was a top-notch online poker platform.
It certainly looked premium and was on par with its competition despite being built from the ground up. The gameplay was very smooth and the animations, visuals, dynamic avatars and sound effects worked flawlessly.
While the platform encountered some initial challenges such as crashes, lag issues, bugs, and glitches, the RIO team proactively addresses these issues through multiple software upgrades, fixing a variety of stability improvements for the client.
But there were certain key features that were initially missing from the offering. These included the ability to play in full-screen mode, the ability to resize the tables, support for hotkeys and the absence of a hand replayer feature. More importantly, there was no support for mobile apps.
It is expected that all these issues will be addressed once the US version of Run It Once Poker goes live.
Run It Once Poker US Expected Features:
Run It Once Poker is expected to bring a range of innovative and unique features to the US online poker market. Some of the expected features include:
1) Splash the Pot
Splash the Pot is a revolutionary way of rewarding players during cash games. Unlike traditional poker rooms where rewards are typically earned through loyalty points or rakeback systems, Splash the Pot takes a more exciting approach. During the course of a cash game hand, Run It Once Poker randomly and unexpectedly "splashes" extra chips into the pot.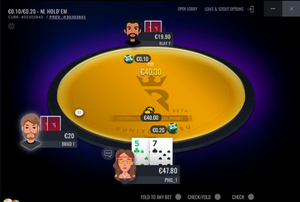 These additional chips, known as "splashes," serve as an instant reward to the players involved in the hand, bringing a new dimension to the game. The feature also acted as an effective measure to combat the presence of bots on the platform. Anticipated adjustments are likely to be implemented for the STP feature once the site is officially launched in the US markets.
2) Dynamic Avatars
Another feature that set the RIO platform apart was its innovative Dynamic Avatars feature. This system introduced a unique and entertaining aspect to the online poker experience, where each player's avatar displayed a random expression based on their recently observed play style. The avatars encompassed eight facial features, including expressions like "asleep," "passive," and "angry."
For instance, if a player was on a winning streak, their avatar might appear cheerful and celebratory, while a challenging losing streak could cause their avatar to show signs of frustration or disappointment. Similarly, the 'asleep' expression was applied to players adopting an excessively tight playstyle, while those displaying aggressive tendencies would be represented by the "angry" avatar.
This feature was primarily implemented to discourage the use of third-party tools like Heads-Up Displays (HUDs) and to maintain a fair gaming environment. We expect the feature to make a return once the US site relaunches.
3) HeroIQ
Run It Once Poker integrated its poker platform with an optional built-in HUD Called HeroIQ. The feature provided three vital pre-flop statistics, including the VPIP, PFR, and 3-Bet percentages, which are widely regarded as essential statistics in third-party HUD software.
The VPIP and PFR statistics were visibly displayed next to the avatar of all players seated at the table, including the player's own stats. These stats were thoughtfully color-coded with a heat map, ranging from green to red, to allow for quick and easy interpretation of the data. Additionally, when a player hovered over the displayed statistics, the 3-Bet percentage, along with two gauges and the number of hands observed, would appear.
In contrast to the Dynamic Avatars, which characterized players with various expressions, HeroIQ focused on presenting the numerical data behind each player's avatar.
Should RIO US be re-launched and incorporate this optional built-in HUD feature, it will claim the distinction of being the first online poker room to offer such functionality.
4)

SNG

Select
SNG Select, RIO's innovative take on the popular lottery jackpot sit and go format is also expected to make a return for the room's US site relaunch. This unique game features two distinct types of sit and go tournaments: Classic and Cub3d. Both versions share the same player pool.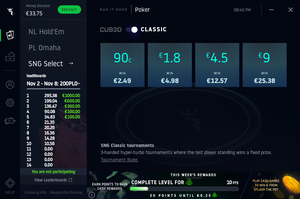 In the Classic version, players engage in traditional sit and gos, competing for a fixed prize calculated based on the total prize pool minus the rake. On the other hand, the Cub3d variant adopts the lottery-style approach, where the prize pool is randomized, offering the chance for prizes ranging from 2 to 1500 times the initial buy-in.
Regardless of whether players opt for the Classic or Cub3d game, each tournament comprises three-handed tables and followed a winner-takes-all format. Participants in the Cub3d version are also treated to a unique feature called "Glitch," which grants random bonus prizes, even to players who don't secure a top spot in the tournament.
Run It Once Poker US
FAQ
When is the US version of Run It Once Poker expected to go live?
Run It Once Poker has not provided a timeline for when it could start offering online poker in the US market. But if we were to take a guess, a realistic timeframe would be 2024.
In which states Run It Once Poker US will be available?
Run It Once Poker US could go live in New Jersey & Michigan where it is expected to share liquidity from day 1. It could also launch in Pennsylvania and West Virginia provided both states become part of the Multi-State Internet Gaming Agreement (MSIGA). Down the line, it could also open its doors in Nevada.
Will Run It Once Poker allow international players on its US platform?
No, once Run It Once Poker relaunches, it will be exclusively available to US players.
What is the role of BetRivers in Run It Once Poker's relaunch?
The relaunched Run It Once Poker will utilize the BetRivers branding and will be called "Run It Once Poker, Powered by BetRivers. Run It Once Poker's parent company, Rush Street Interactive, will be integrating BetRiver's online casino and sports betting vertical into poker.
Related News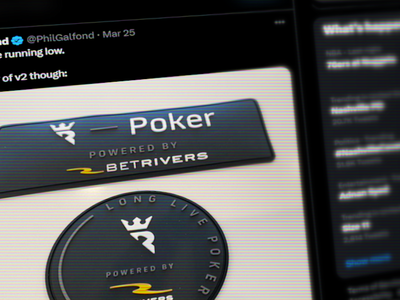 If accurate, RSI's move to retain the Run It Once Poker name could be a smart marketing strategy as it draws nostalgic players to a new platform.