In April, FanDuel was the unquestioned top online sportsbook in terms of revenue and market share in seven of the 15 states where it currently operates and is likely the leading operator in two more states, data from various state regulators show.
In April, FanDuel was the top online sportsbook in Connecticut, Illinois, Indiana, Iowa, Michigan, New York, and Pennsylvania. Its market share ranged from a low of 34.7% in Iowa to 61.4% in Pennsylvania.
FanDuel Online Sports Betting Revenue — April 2022
| State | Market Position | % Share | Revenue | Online Partner |
| --- | --- | --- | --- | --- |
| CT | 1st | 57.1% | $4.9 million | Mohegan Sun Casino |
| IL | 1st | 49.0% | $33.4 million | Fairmount Park |
| IN | 1st | 44.1% | $12.6 million | Blue Chip Casino |
| IA | 1st | 34.7% | $4.0 million | Diamond Jo Casino (Dubuque) |
| MI | 1st | 50.7% | $1.6 million | MotorCity Casino |
| NY | 1st | 61.1% | $63.6 million | untethered mobile license |
| PA | 1st | 61.4% | $28.4 million | Valley Forge Casino |
| TOTAL | 1st | 54.9% | $148.5 million | |
Combined, online sports betting revenue from the seven states totaled $270.3 million in April. That included $148.5 million from FanDuel's online operations in those states, for an overall market share of nearly 55%.
$1000
Risk-free on your
first bet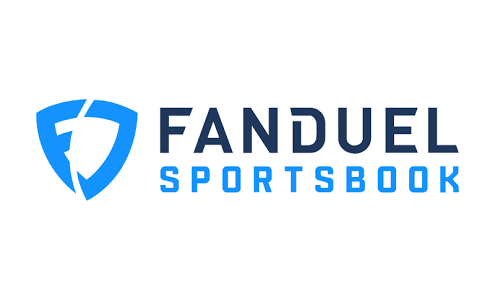 $1000 Risk-free
applied to your first bet
Massive risk-free bet
Quality promotions
Good in-play options
New York Sports Bettors Lift FanDuel to the Top
One big reason for FanDuel's current dominance in the US is its performance in New York, where it holds an untethered mobile sports betting license. The New York market launched in January and is the largest in the US.
The operator started turning the tide against its rivals in March when it grabbed a 51% market share. The next month, it expanded its position to 61.1%, largely at the expense of Caesars — although DraftKings also had a slide. BetMGM, BetRivers, PointsBet, and WynnBET never really took off with bettors in the Empire State, and each has market shares near the bottom.
Flutter CEO Peter Jackson said FanDuel's launch in New York had "exceeded expectations" during the parent company's trading update in May. Jackson cited the April revenue figures at the time.
FanDuel Also Tops in Illinois, Pennsylvania, and New Jersey
Illinois and Pennsylvania were also big revenue states for FanDuel in April, at $33.4 million and $28.4 million, respectively. FanDuel is partnered with the Fairmount Park horse racetrack in Illinois and the Valley Forge Casino in Pennsylvania.
In New Jersey, FanDuel operates under the land-based license of The Meadowlands. Its other online partners are PointsBet and SuperBook — two brands unlikely to be as popular as FanDuel, so most of April's revenue ($33.3 million) was likely from FanDuel. The Meadowlands also had a 67.2% market share in April, most likely from FanDuel.
FanDuel's Performance in Other States
In Arizona, March is the most recent month with an available revenue report. According to the Arizona Department of Gaming (ADG), FanDuel was the second-largest online sportsbook that month, with $184.6 million in revenue and a 26.8% market share. Its partnership with the NBA's Phoenix Suns allows it to operate in the state.
FanDuel's performance in West Virginia is harder to estimate since it is one of three skins for the private Greenbrier resort and the West Virginia Lottery (WVL) doesn't separate revenue by operator. The Lottery also reports revenue weekly rather than monthly. Greenbrier's other skins are BetMGM and Golden Nugget.
That said, FanDuel is likely the top online sportsbook in the Mountain State. According to the West Virginia Lottery, mobile sports betting revenue for the four weeks ended on May 7, May 14, May 21, and May 28 totaled $2.6 million. Greenbrier accounted for $1.9 million, equating to a market share of 72.9%.
Five states — Colorado, Louisiana, Tennessee, Virginia, and Wyoming — issue mobile licenses but don't separate revenue by operator. In Colorado, FanDuel is tethered to the land-based casino license of the Golden Gates Casino. Its land-based partner in Louisiana is the Treasure Chest Casino. The other three states do not require land-based partnerships.